PAISATGE DELS RECORDS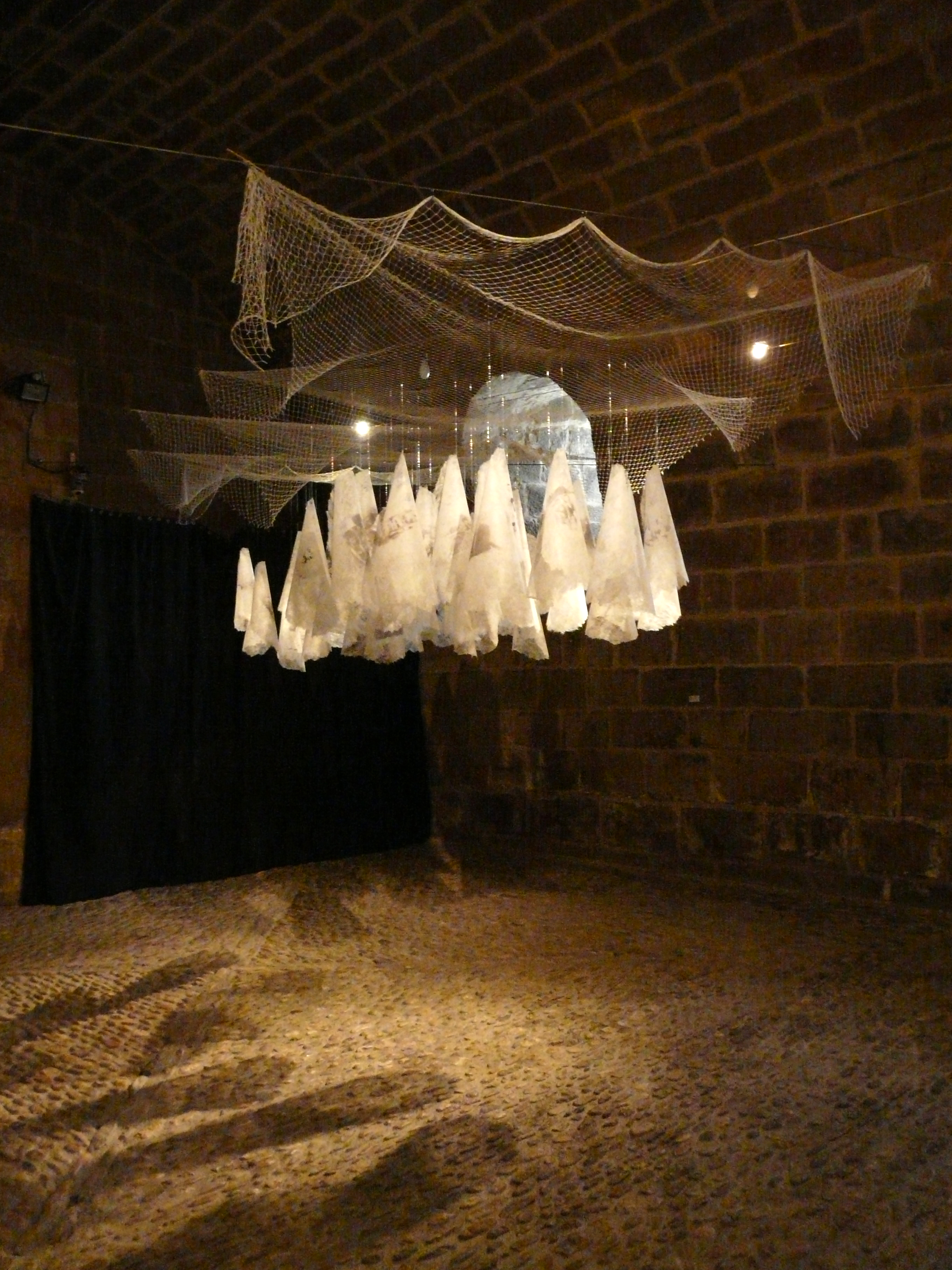 Installation / transfer print on polyester parper, fishing line and fishing net / 350 x 250 cm / 2009



Després de realitzar un procés de recerca i de tria entre les fotografies familiars pròpies de diferents generacions, aquestes s'han transferit en un paper de poliester, un suport tou, translúcid i molt lleuger, i que pengen amb fil de pescar d'una xarxa de la ciutat costanera de Vilanova i la Geltrú, ciutat d'on és la meva família.

Per la naturalesa del material tou i pel propi pes d'aquest, cada imatge pren una forma cònica, com el d'una muntanya, i degut a la lleugeresa d'aquest material, quan caminem a través d'aquesta instal·lació, el propi aire que generem amb el cos al moure'ns, provoca un efecte de rotació en cada record, fent que la fotografia aparegui i desaparegui de la nostra visió, convertint aquest paisatge de records en un paisatge que esdevé tot blanc.


_______________


PAISATGE DELS RECORDS [THE LANDSCAPE OF MEMORIES]
After researching and selecting some family photos covering different generations, they were transferred on polyester paper; a smooth, translucent and very light support; and are hanging on a fishing line from a net taken from the coastal town of Vilanova i la Geltrú, where my family comes from.



Given the soft nature of the material and its weight, each image adopts a conical shape, like a mountain, and since this material is very light, when we walk through the installation the air generated by our movements leads each memory to rotate, with the picture appearing and disappearing from our sight, turning this landscape of memories into a landscape that is all white.


_______________


PAISATGE DELS RECORDS [PAISAJE DE LOS RECUERDOS]
Después de realizar un proceso de investigación y de selección entre las fotografías familiares propias de diferentes generaciones, éstas se han transferido a un papel de poliéster, un soporte blando, translúcido y muy ligero, y que cuelgan mediante un hilo de pescar de una red de la ciudad costera de Vilanova y la Geltrú, ciudad de donde es mi familia.

Por la naturaleza del material blando y por el propio peso de éste, cada imagen toma una forma cónica, como el de una montaña, y debido a la ligereza de este material, cuando caminamos a través de esta instalación, el propio aire que generamos con el cuerpo al movernos, provoca un efecto de rotación en cada recuerdo, haciendo que la fotografía aparezca y desaparezca de nuestra visión, convirtiendo este paisaje de recuerdos en un paisaje que se convierte completamente blanco.